Bridge Below can help manage your pricing policies to include MAP or UPP reporting and enforcement.
Bridge Below offers a state-of-the-art, web-based platform designed specifically for manufacturers in the automotive aftermarket industry. Our innovative technology bridges the communication gap between manufacturers and sellers at every level, empowering you to establish, analyze, and nurture relationships with your brand's representative agencies, distributors, and sellers.
As industry specialists, we focus exclusively on the automotive aftermarket, currently monitoring over 25+ major brands. Our platform fosters daily collaboration, allowing clients to share vital information about sellers and dealers to strengthen their MAP enforcement strategies.
At the core of Bridge Below's cutting-edge technology is the robust collection and utilization of data. Our platform presents this invaluable data in an organized and connected manner, ensuring your company has access to all the necessary information for comprehensive reporting and effective enforcement. Experience the benefits of our MAP Price Protection Portal (PPP) and see how our tailored solutions can drive your brand's success in the competitive automotive aftermarket landscape.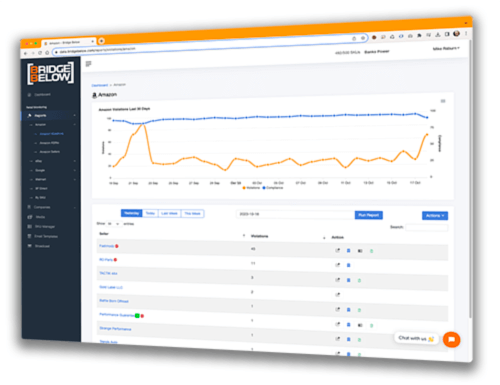 Discover the power of our MAP Price Protection Portal
Reporting & Enforcement
Daily and weekly reports with tools to enforce your policies.
SKU Management
Change and monitor your desired brands and SKUs on the fly.
Seller Information
Access and share 1000's of seller contact details.
---
---

---
---
In addition to the major marketplaces listed above, we also monitor countless e-commerce sites.
Reports & Enforcement Tools
---
The solution gives you and your team access to our platform.
Reporting

Overview
Marketplace Overview
3rd Party Overview
Retailer Detail
SKU Management

Add/Remove/Update
Enable/Disable
Company Management

Make seller connections
Maintain historical notes & logging
Contact Sharing between Manufacturers
Communication

Send out reports and notices
Send out updated pricing files
The managed solution gives you everything our unmanaged solution does, with the added benefit of having us manage your account. We have many years of experience enforcing polcies with aftermarket companies.
Daily review of violations
Daily enforcement on violations
Connect sellers to company contacts
Weekly progress reports shared
Manage a 'Do Not Sell' report
---
Bridge Below is perhaps the most critical component of our MAP program. After having used considerably more expensive solutions that didn't really "get" the aftermarket, they were a breath of fresh air. Their team is top notch; you won't find better, more personalized service anywhere in the space. Bridge Below helped us clean up the wild west of internet retail and marketplace sales and establish an effective, efficient system to control MAP and protect our brand and valued distribution partners.
When it comes to retailer monitoring of MAP Pricing, these guys get it done! I have used several others in the past and Bridge Below is by far the most advanced out there. Being that they are 'Car People' with retail experience, they know the "Game" and are very proactive staying ahead of it. Daily visibility of the Retail Marketplace is a must. It is also nice to have immediate attention when necessary.